Voices of Leadership Keynote Encouraged Audience to Embrace Authenticity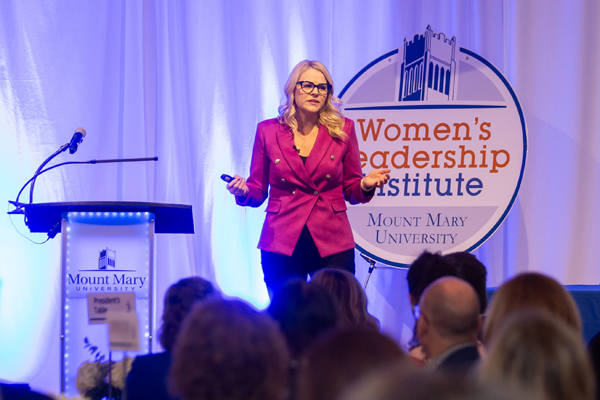 Mount Mary's Voices of Leadership event on November 8 featured TEDx speaker April Hansen, a nationally renowned business thought leader. Hansen's presentation, "Embracing Authenticity," discussed how to identify our personal and professional core values, as well as ways to overcome the obstacles that prevent us from actualizing these traits in our lives.
To Hansen, this alignment of values is the key to each of us living authentically. In her presentation, she stressed the importance of continuous learning and mentorship, as well as embracing and learning from our failures. Above all, Hansen encouraged the audience to embrace curiosity and self-reflection in order to achieve personal and professional transformation.
"Authenticity is the place where we get to live out our God-given talents," she shared. "You have the power to embark on yourself, and it will be the most profound journey."
View TMJ4's coverage of the 2023 Voices of Leadership event at
https://www.tmj4.com/news/local-news/mount-mary-university-students-embrace-authenticity-at-voice-of-leadership-event