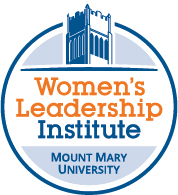 Women's Leadership Institute
The Women's Leadership Institute was established in 1998 with a bold vision to help women develop their full potential to be transformational leaders. The Institute educates, prepares and inspires women and girls to recognize and embrace their own unique strengths and leadership abilities to positively impact their lives and the lives of those around them.The Women's Leadership Institute offers programming for the university and the community that opens minds and inspires conversation and action, including Voices of Leadership, the Summer Leadership Academy for high school girls, the Visiting Fellows Program, and the Leadership Education And Development (LEAD) Program for current Mount Mary University students. Select the links or go to the navigation bar to the left to learn more about these programs.  
---
The Women's Leadership Institute endowment is generously supported by Virginia Cornyn '62, and Nancy Cheski '65, to ensure that we are able to continue to offer leadership development to women and girls in perpetuity. The Women's Leadership Institute is grateful for their continuous support. 
---
Investing in our Mission
Your investments – through input, ideas and donations – are vital to helping women transform themselves into the creative leaders our world needs. If you would like to invest in our mission, you can make a donation instantly online, or contact us for more information. We appreciate your support! It's easy to invest in the mission of the Women's Leadership Institute through our secure site.
For questions or more information, contact Amy LaMacchi, Senior Director of Advancement, at lamaccha@mtmary.edu or (414) 930-3343. 
Sign up below to receive the latest news and updates from the Women's Leadership Institute.
WLI News 
Interested in getting the latest updates on Women's Leadership Institute events and programming? Register for the Women's Leadership Institute Newsletter below! 
---